Willys Overland Knight Registry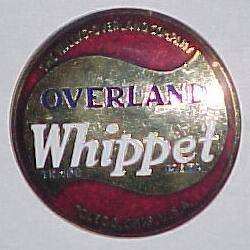 1927 - 1928 Whippet 96 Radiator Emblem
This emblem was used after Jan 13th, 1927 and replaced a similar "Overland" badge at the same time the hub caps also started to use the "Whippet" script.
Lettering reads as follows:
THE WILLYS-OVERLAND COMPANY
OVERLAND
WHIPPET
TRADE MARK
TOLEDO, OHIO, U.S.A.

Dimension = 1 5/8 inch, 41 mm.

Rear of the badge is marked:
THE D.L. AULD CO.
COL.O
Similar badges with "Toronto, Canada" instead of "Toledo, Ohio, USA" lettering were fitted to vehicles of Canadian origin.