Willys Overland Knight Registry
R&V, R&V Knight, Moline, Moline Knight History
Moline (1904 - 1910)
Moline Dreadnaught (1910 - 1913)
Moline Knight (1913 - 1919)
R&V Knight (1920 - 1924) 4 & 6 cylinder
In 1900, William H. VanDerVoort and Orlando J. Root established the R&V Engineering Co in East Moline, Illinois. They began manufacturing gasoline engines and in 1904 founded the Moline Automobile Company as a subsidiary. In 1905 this new auto company moved to a new two storey building measuring 60 x 300 ft in size with a workforce of 125 men. The 2 cylinder models of 1904 were replaced by forward mounted 4 cylinder offerings with shaft drive in 1905 with production reaching 50 vehicles for the year, but in 1906 both 2 and 4 cylinder models were offered with prices ranging from $1000 to $2500.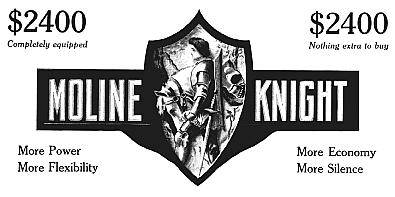 The Knight engine was adopted after almost a year of extensive testing. Having satisfied themselves of the Knight engines superiority, a Moline Knight engine was publicly tested in a non stop test by the Automobile Club of America. It ran 337 hours without adjustment to motor, magneto, spark plugs or carburetor in this two week public test. Company advertising claimed that Charles Knight was happy to grant the Moline Auto Co. a licence to build his engine because along with their nine years successful experience as motor car producers they had fourteen years experience as builders of gasoline engines - with R&V engine output said to be over 20,000 per year !
The Moline-Knight was distinctive and was a car that was instantly recognized on the boulevard. It was symbolic of reliability, comfort and luxuriousness. All steels, wood, upholstering, leather and other materials used in the Moline-Knight could not be faulted because the world's markets and craftsmanship had not produced anything superior.
Realizing that the finish of the body serves to tell the story of outward appearance, elegance and beauty, the finishing of Moline-Knight bodies was an arduous task. Coat upon coat of elastic varnish made of pure oils, japans and imported gums were used before the body finish was pronounced in keeping with Moline-Knight thoroughness. Each coat was allowed ample time to thoroughly dry before another was added and each was rubbed down with the finest sand paper, curled hair, lump pumice stone or steel wool as the case may require. Moline bodies would not check or flake on account of expansion or contraction of the metal, and when ready for the road the exterior of the body was as smooth as glass and as lustrous as a mirror.
The engines proved so reliable that New York's fifth avenue buses adopted the R&V Knight engine in 1915.
The Moline Automobile Co. name was changed in 1918 to the Root and VerDerVoort Engineering Company and the Moline Knight gave way to the R&V Knight for the 1920 Market. Like it predecessors, it was a quality car throughout and carried a price tag similar to Cadillac.
The R&V Knight was a 6 cylinder with a distinctive V type radiator and $4,000 price tag on its closed models. In 1921 the prices of the sixes were increased to make way for a 4 cylinder R&V Knight. 1922 marked the peak of production with 1300 vehicles produced. In 1923 the six cylinder model was released with a flat radiator with engines now being built by the Yellow Sleeve Valve Engine Works.
By December of 1924, the R&V Motor Company gave up its automobile production and instead concentrated on building truck and bus engines.
The remains of about a third of the old Moline Automobile Co. test track still exists at the AMETEK plant in East Moline.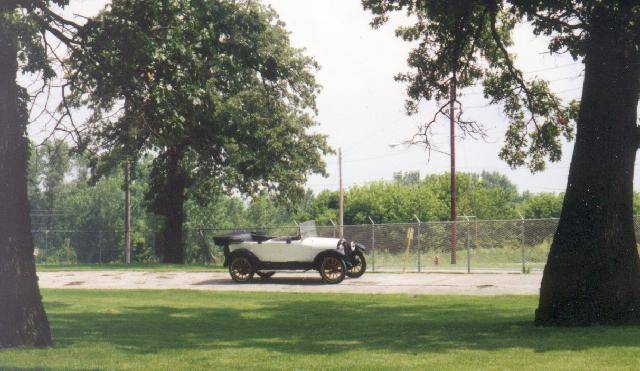 1916 Moline Knight on the original test track.
Interested readers should also refer to W.O.K.R. STARTER number 127, Apr - Jun 1994 as well as the W.O.K.R. LIBRARY for more information on the Moline / R&V family of vehicles.
Enthusiasts should also make contact with the
Moline, Moline-Knight, and R&V-Knight Automobile Registry
John Nikodym
1111 Highway 281
Red Cloud, NE 68970
email nikrcne@gpcom.net
402-746-2248
For those specifically interested in Root & VanDerVoort Engines, an International Register can be found at http://www.oldengine.org/members/plowe/rv-engines/rvpage.htm