Willys Overland Knight Registry
Sterling Knight History

James Gilman (Pete) Sterling's involvement with the sleeve valve engine started in 1909 when he was sent to England by F.B. Stearns to study the Daimler - Knight engine. Being Chief Engineer for Stearns, he was responsible for the engineering behind the Stearns Knight V8 engine but following the takeover of F.B. Stearns by George Booker, he resigned in April 1920 taking many engineers and production staff with him to build his own car - the 6 cylinder Sterling Knight. This was initially a Cleveland built car and first shown at the Chicago Auto Show in December 1920. After 10 or so cars had been produced the post war economic slump halted further production. Unlike many other cars which also failed at the time, the Sterling Knight had a second chance when the Sterling Knight Co was capitalised at $1,500,000 in May 1923. Instead of Cleveland, this time the premises were in Warren, Ohio in a factory formerly used by the Supreme Motors Co. Production apparently started soon afterwards with some 450 vehicles produced in the 1923 - 1924 period when the company was at it's peak. Prices for the 125 inch wheelbase 6 cylinder cars ranged from $1,985 to $2,800.
Although F.B. Stearns, producers of the Stearns Knight, were bought out by Willys Overland in 1925 there was no such connection with the Sterling Knight which once again had financial problems in 1925, this time ending in bankruptcy in Dec 1926.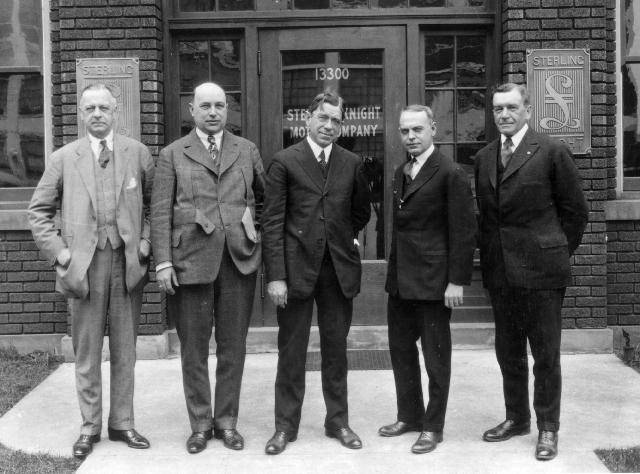 Sterling Knight Motor Company Management - (Photo from W.O.K.R. Library)

Interested readers should also refer to W.O.K.R. STARTERS:
2nd & 3rd Quarter, 1965,
number 99, 1st Quarter, 1987.
number 133, Oct-Dec, 1995.
See also the W.O.K.R. LIBRARY .